London Book Fair and Elsevier – partners in sustainable action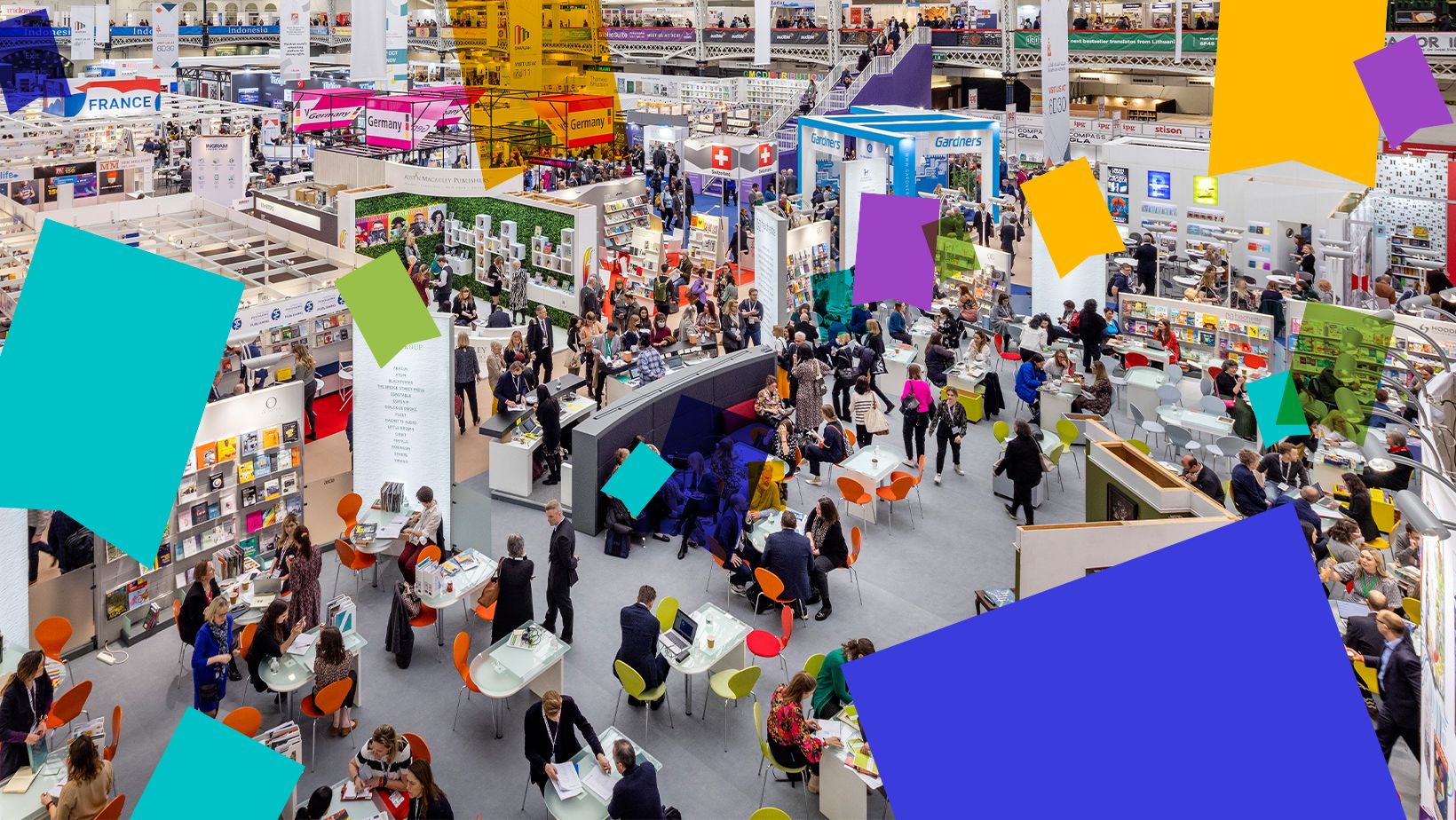 Birds eye view of people networking at London Book Fair
Birds eye view of people networking at London Book Fair
A joint project by RX and Elsevier to put sustainability at the heart of London Book Fair 2023, the publishing industry's annual UK gathering, highlighted the importance of industry collaboration in accelerating climate change awareness and action.
The past few years have seen a growing consensus within the publishing industry of the need to turn words into action on sustainability. From the founding of the Sustainable Development Goals (SDG) Book Club and SDG Publishers Compact, to the launch of the International Publishing Association hosted Sustainability Summits and their sponsorship of the Publishing 2030 Accelerator, a much more collaborative drive to put sustainability at the heart of the publishing industry is now underway.
Among the most vocal advocates for change is Rachel Martin, Global Director for Sustainability at publisher Elsevier – like London Book Fair, a RELX company. So, it was entirely fitting that Rachel and her Elsevier colleague Michiel Kolman should join forces with London Book Fair director Gareth Rapley and his team to deliver the first Sustainability Hub at LBF 2023 from 18-29 April, with a stage devoted all week to raising awareness of the growing climate emergency and how the industry should best respond.
"RX and Elsevier are both committed to reducing our direct and indirect carbon emissions with the goal of becoming net zero by 2040, in line with our parent company RELX," said Gareth. "We also share a commitment to using our event publishing and platforms to support and drive the SDG agenda by stimulating conversation and collaboration, and educating and influencing the industries we serve. Shortly after I joined the LBF team in September 2022, Rachel pitched the idea of a dedicated sustainability space to provide ideas and inspiration on the topic and highlight the important work being done in collaboration across the book chain - and so the Hub was born."
"Nobody gets to net zero by themselves" said Rachel, who co-founded the Publishing 2030 Accelerator and represents Elsevier on several sustainability committees.
"We all have work to do, not just on climate action, but on every aspect of sustainable development. The key is about working together and in the end that is what SDG 17 is all about, the partnerships that will bring about real action."
The Sustainability Hub – driving awareness and action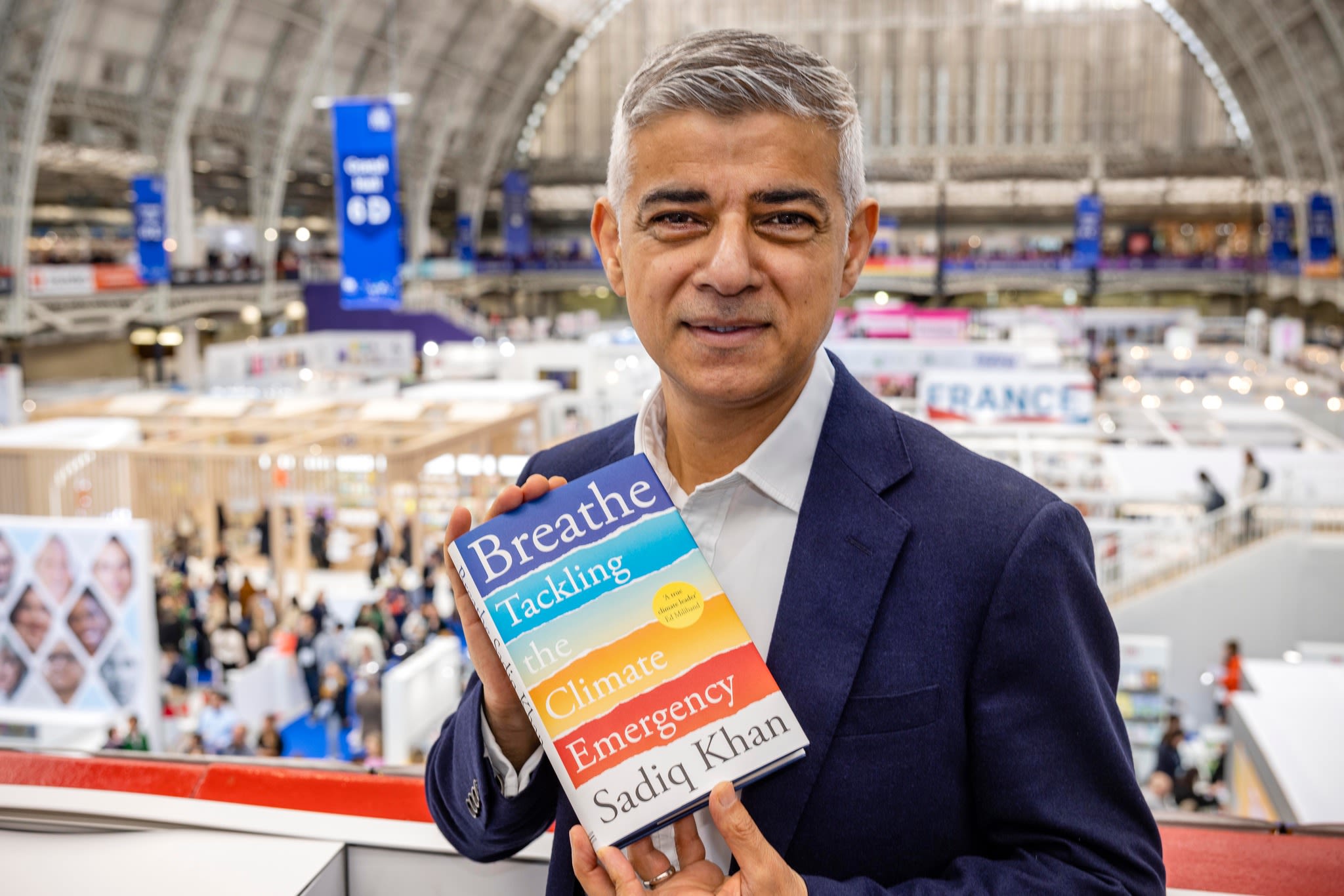 Sadiq Khan with his book titled: Breathe, Tackling the Climate Emergency
Sadiq Khan with his book titled: Breathe, Tackling the Climate Emergency
The Sustainability Hub delivered three days of programming designed to raise awareness about climate change and encourage publishers to adopt sustainable responses across the supply chain.
Day one focused on the UN's 17 Sustainable Development Goals, including a presentation on the SDG Publishers Compact – what it is and how to sign up. Launched by the IPA and UN in 2020 the compact requires signatories to align their daily practices, content, and measures of success with the SDGs – over 300 organisations have now committed to do so, with Elsevier an early signatory.
Day two kicked off with a standing room only keynote from London Mayor, Sadiq Khan who spoke about his experiences of making London a more sustainable city, and how this shaped his recently published book, Breathe: Tackling the Climate Emergency. Other highlights included BIC's (Book Industry Communication) presentation on 'Designing books with Recycling in Mind'; a session by the European and International Booksellers Federation (EIBF) on the challenges and best practices of book returns; an update on the Publishing 2030 Accelerator, including carbon labels and print on demand; and a guide to The Publishers Association carbon calculator
On the final day, trailblazing publishers like Springer Nature Technology and Publishing Solutions, Penguin Random House UK, HarperCollins Publishers and Elsevier took to the stage to share their own sustainability journeys and lessons learnt.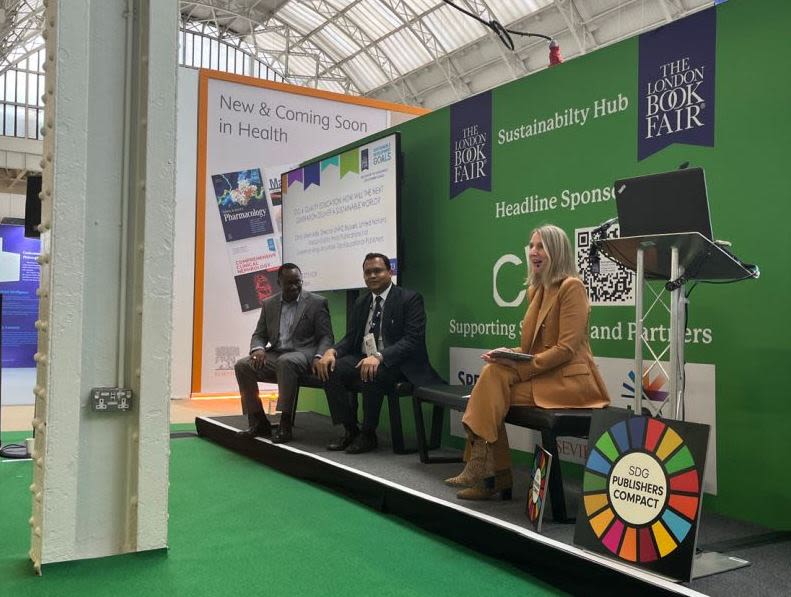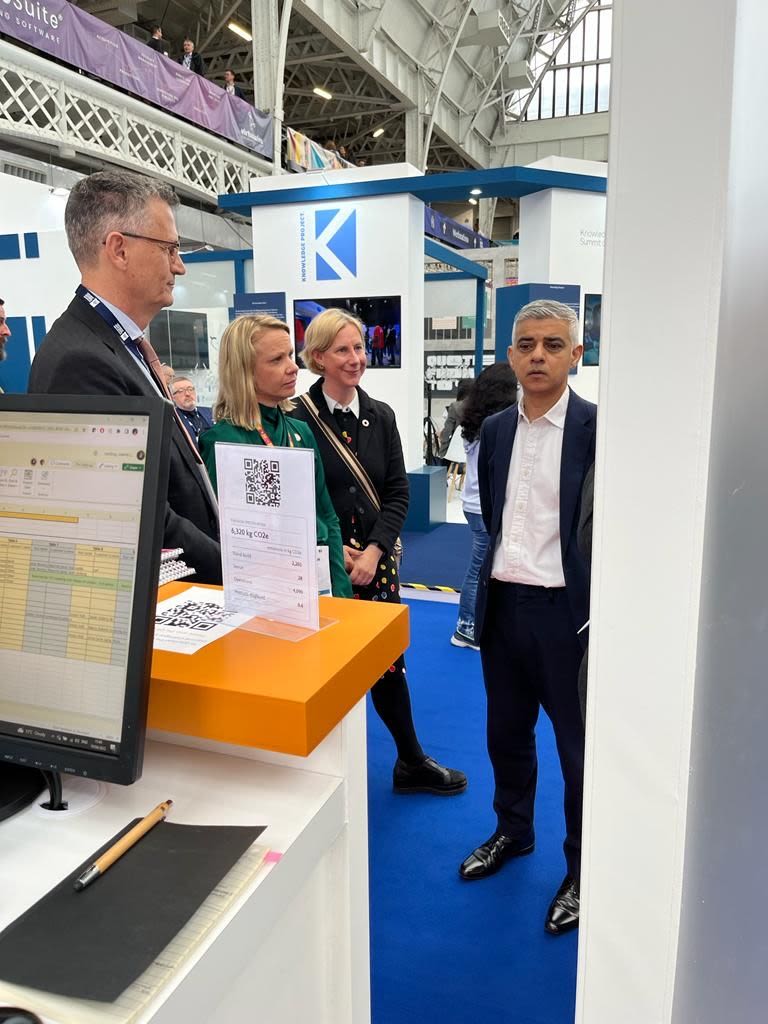 Taking a stand on carbon emissions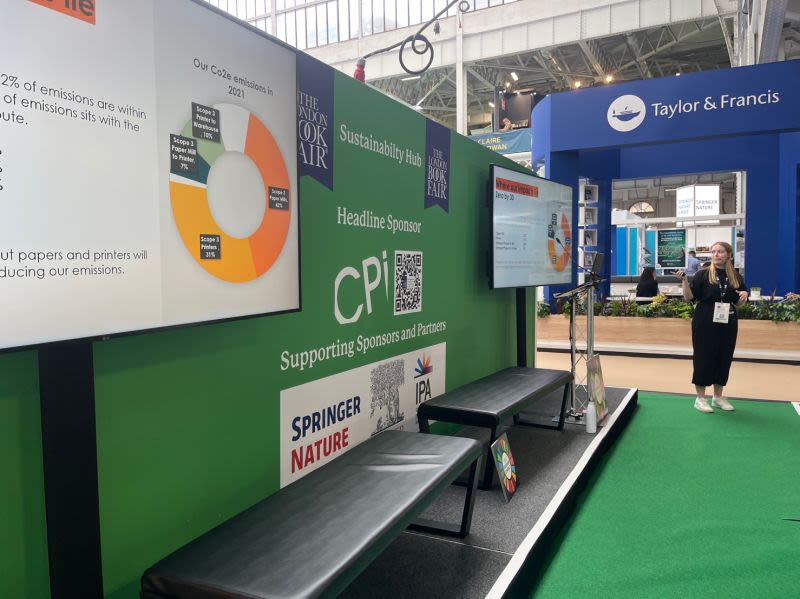 A session taking place at the Sustainability Hub at London Book Fair
A session taking place at the Sustainability Hub at London Book Fair
RX and Elsevier are both great believers in what gets measured gets managed. Which is why they joined forces at LBF 2023 to not only promote climate action but to understand the emissions involved in attending and exhibiting at book fairs.
"The IPCC report demonstrates how critically important it is that we globally reduce our emissions and every little action matters," explained Rachel. "We wanted to make sure that while we were talking about climate action, our stand was walking the talk."
Working with Smart Space, RX's in-house design and build service, Elsevier created a prototype carbon label of its stand using four main categories from the perspective of an exhibitor: the stand build; venue emissions and waste; operations (emissions from staff travel and accommodation); and the emissions associated with the products they displayed.
"It is important that book fairs play their part to address climate change and as exhibitors we should better understand our own footprint," said Rachel.
"Data is key here – understanding where the big emissions might be enables us to think about how we can encourage and drive the right behaviours when thinking about our stand and engaging with our customers and partners onsite."
Not to overlook the wider impact of books fairs on sustainability, Gareth joined Juergen Boos, head of Frankfurt Book Fair, in the Hub for a session on 'Book Fairs: How Sustainable Are They?'
"The events industry, like publishing, has had a huge wake-up call in the last few years," said Gareth. "At the beginning of 2023, we published the 'RX Sustainability Playbook' which helped to inform some of our decisions at LBF this year, such as moving from print to digital marketing, introducing sustainable badges, calculating our carbon footprint so that we can measure our progress going forward, and so on. But there is much more that we can do, and as a founding signatory to UFI's Roadmap to Net Zero Carbon Events, we are committed to working with our industry's to promote positive change."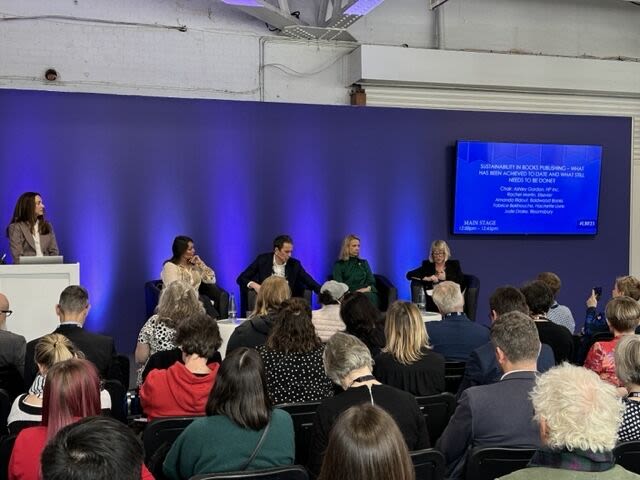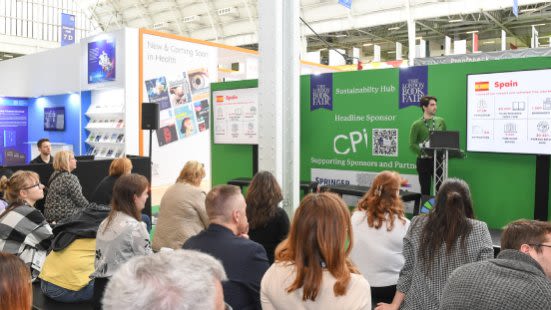 A large and engaged crowd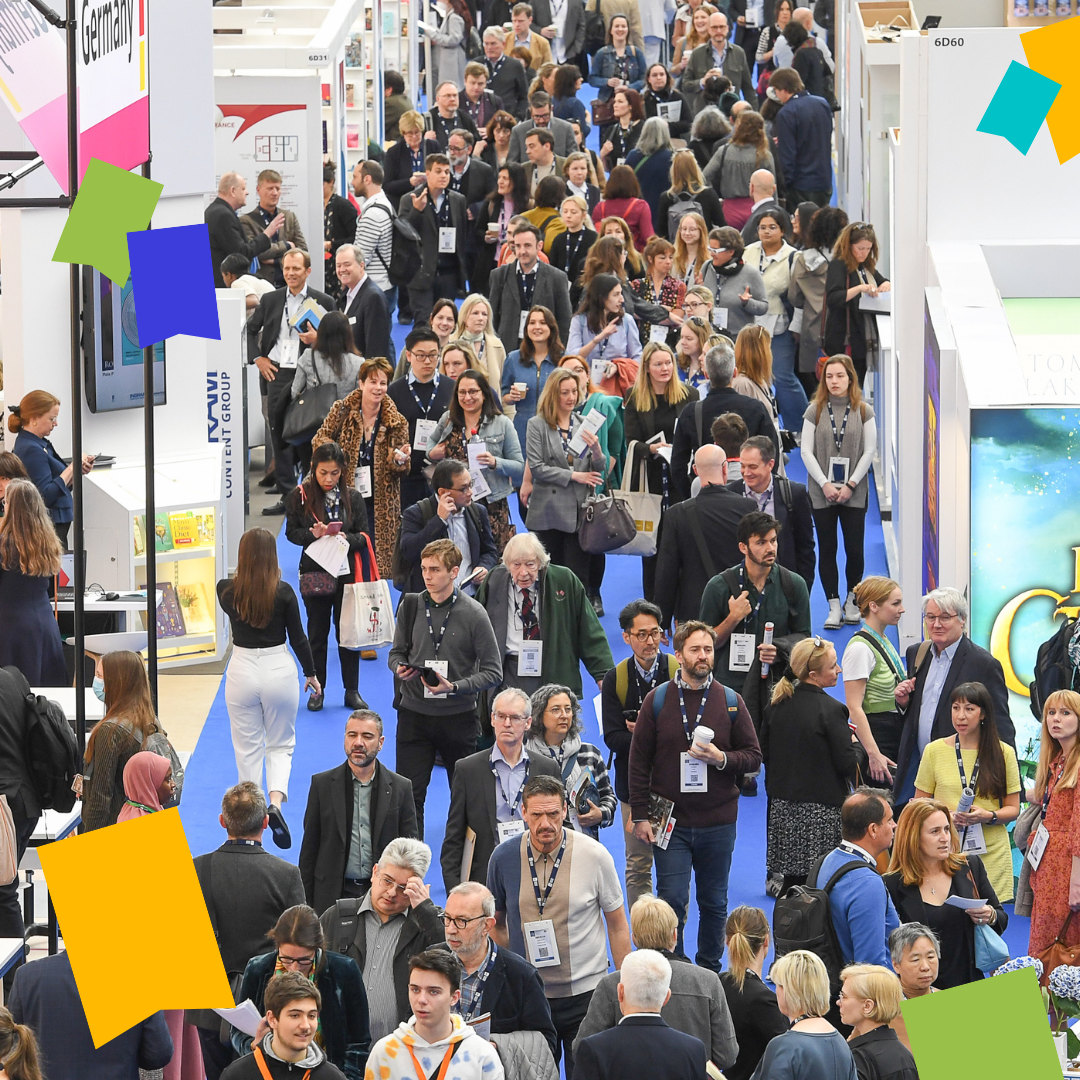 A large crowd walking the halls of London Book Fair
A large crowd walking the halls of London Book Fair
To the delight of Gareth, his team and their exhibitors, London Book Fair 2023 was back at pre-pandemic visitor levels with a total attendance of over 31,500.
Mary Mount of Picador publishing told The Bookseller this year's fair was 'particularly lively' and "one of the most positive fairs I've ever been to…Very crowded, loads of meetings, very buzzy." Nigel Newton of Bloomsbury described LBF as "the best fair in recent memory."
"Given our commitment to promoting sustainability this year it was really gratifying to see our messages being relayed to such a large and engaged crowd," said Gareth. After the show, the IPA told us that we had set the bar on sustainability content for other events."
Rachel agreed. "Sustainability is now firmly on the book sector's agenda, having been named by the Guardian as one of the Top 5 trends from LBF. It's wonderful to see that the book sector is starting to address sustainability and that we want to learn from each other. I received such nice feedback from people who were inspired to go back to their desks after London Book Fair and start thinking of ways they could champion sustainability."